Various screen used Protect Gears made by Buildup Company on 1990 for the movie Kerberos Panzer Cops StrayDog.
The new Type 92 armor -also called "202 Gear"- has a different design from the previous film Akai Megane and original manga.
Fifty armors have been built for StrayDog, including eight Protect Gears T96 and forty-two lights armors T10.
I do not know how many still exist today...
Different materials were used for the manufacture of armor:
- The helmet is molded on vinyl.
- Back pack are made on FRP (Fiber Reinforced Polymer).
- Body armor and various other elements (belt protections, shield...) are composed with hard polyrethane foam covered by leatherette.
- The gloves and boots are on real leather.
Pictures of the costume on location in Hong Kong during the shooting (the movie was filmed in Japan, Taiwan and Hong Kong).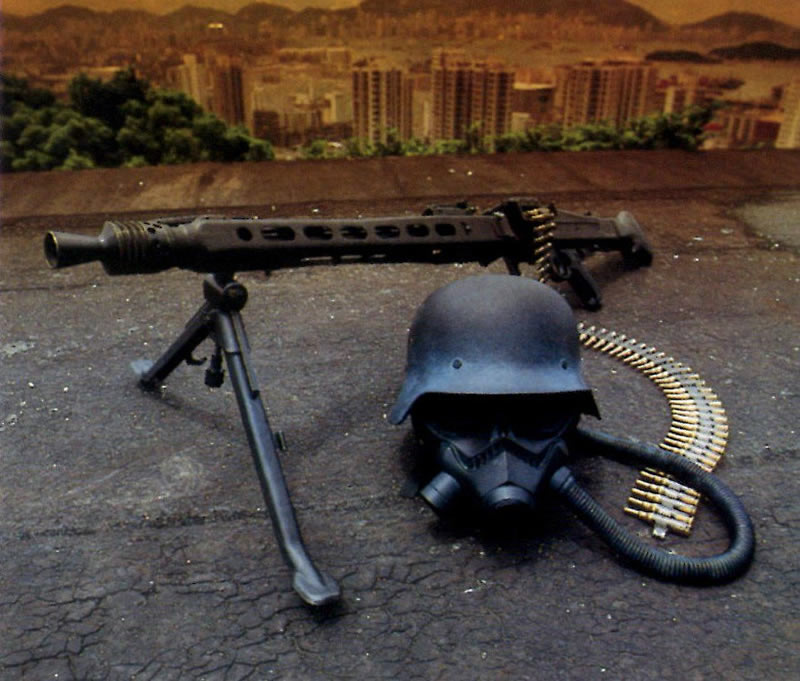 Originally published on Hobby Japan Extra (Spring 1991)
Screen used armors
A near complete original Protect Gear and MG42 replica sold on Yahoo Auctions
The four wonderful images above (click to enlarge) by Nihonmatsu7, thanks to him for granting us the opportunity to use them !
Action scenes shots
Promo & magazines pictures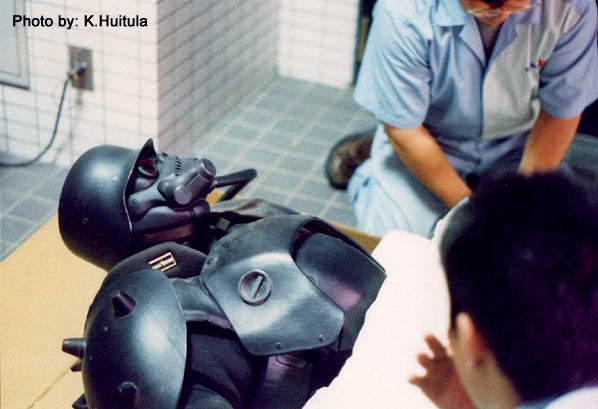 Images of the movie poster
The Production I.G. Protect Gear
This screen used armor owned by Production I.G. studio was shown in various events.
Very recognizable with his single screw on the left side of the chest (two screws are generally used, one on each side) and his platoon number behind the helmet (all pictures from Production I.G.).
Suginami Animation Museum Protect Gear
Another Protect Gear was used for the Jin-Roh exposition at the Tokyo Suginami Animation Museum in 2011.
This armor seems to be identical to the one of Production I.G. firstly due to his single screw on the chest.
But no platoon number behind the helmet, and the state of conservation is better.
It's maybe a restored version of the original armor, or a replica made for the exposition...
But it's nice to see a Type 92 from StrayDog in good condition !
The typical single screw of the Production I.G. armor
Video taken during the exposition
Type 10 light armors props also used on StrayDog movie.
Composed of a ballistic vest and helmet, it can be also used only with infrared goggles and a cap, instead of the regular helmet and respirator equipment.
Two T10 and caps displayed on events (picture from Kerberos Saga.jp).
Bulletproof jacket, inner clothes and resin insigna (pictures from Yahoo Auctions).
There is different types of face masks in the movie, most of them are made in one piece (exception for the lateral breathing cartridges), and made in vinyl.
There is also a more elaborated mask with detachable parts, googgles, mouth and other special features. This specific mask (that I call "hero") was made for close up plans of Mr Fujiki.
The mouth part is maintained by two magnets to be easily removable on screen.
"Hero" mask during exhibition, it's a really wonderful craftmanship piece!
"Hero" mask bottom part weared by Mr Fujiki's on this production picture (director Mamoru Oshii on the right).
Contrary to the information found on Internet, the helmet used for the T92 and T10 is not the WWII German "Stahlhelm" replica.
The Spanish helmet model Z-42 is the nearest type for design.
Several points are consistent, particularly the three lateral rivets that are specific to this model (only two on the Germans models).
It is not excluded that helmet came from China, but actually no photography can validate this way.
In any cases, helmet used on StrayDog movie is not a German helmet.
If you have informations about that, please contact me.
StrayDog movie trailer