After these bad experiences, I finally managed to get nice things like this hand gun and its holster.
The PPK/S has been manufactured in Japan and bought at Red Wolf Airsoft website.
It's a very realistic copy, the charger can carry bullets and operation of the bolt is identical than a real PPK.
The holster is very close to the model used by the hero of the movie StrayDdog, the only noticeable difference was that the original color was brown.
After to be recolored in black, it is quite close to the model used for the movie.
This gun from Couteaux Center is another good surprise, for a low cost it was quite nice.
Totally made in metal (except for the handle sides) by Spanish company Denix, weight is very close of the real model.
A good product with a very attractive price.
A general view of my 1:1 scaled items.
Built on the model T98 from StrayDog movie, I makes this armor during year 1998.
At this time, I only had a few small photographies in my possession as references pictures, it was difficult in France to have such documents without Internet...
If I had better pictures, I could construct a better armor closer to the movie ones, but I had to extrapolate some parts because I had no pictures...
The pictures below are the latest taken during the year 2014, the armor is standing on a mannequin.
My Protect Gear was unfortunately irremediably damaged by humidity during a year of bad stockage...
I was very sad to put on garbage my beloved costume, but I'm happy to share these pictures for the visitors of this website.
To upgrade my old Protect Gear, I have bought these airsoft gloves on Ebay for a very low cost.
They are quite differents than movies ones but they are better than original first leather gloves I have originaly used.
Armored gloves replicas can be found at "Nightmare Armor Studios", but over $200 for unassembled and unofficial parts kit seems to be really too expensive for me.
1/6 Kerberos Panzer Cops StrayDog
Manufactured by Dragon toys (2002), more pictures and complete review on "Toy Haven" website here.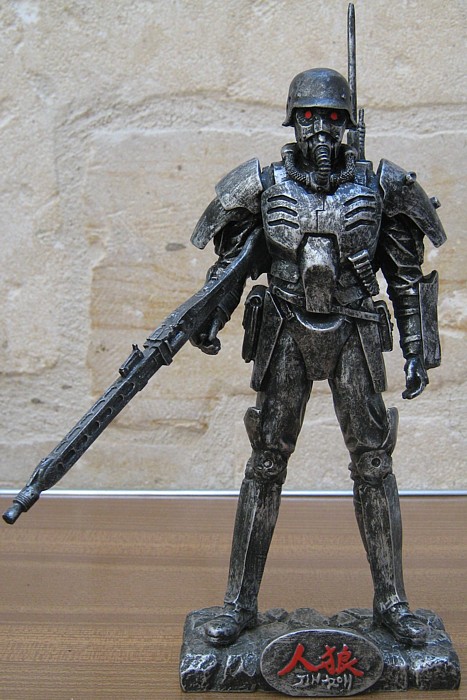 Jin-Roh Statue
Static figure cast on resin, size 22 centimeters.
Revoltech Kerberos Panzer Cop Revision 20th edition Box
This collector box include :
Kaiyodo Revoltech "Kenrou Densetsu" Protect Gear figure. It stands 130mm tall.
Two Japanese manga (Part 1 and 2 of "Kenrou Densetsu" - Dog-Wolf Legend) and a special booklet "Kamui Fujiwara x Mamoru Oshii Another Works".
This set was offered to me by my friend Gunts.
Figure and box detail.
My collection of Kerberos emblems with on left the original metallic insigna made ont the 90's and on the right the latest version.
The sculpture is different (the first version is more accurate comparatively to the movies ones) and the new version is painted in black.
These emblems are gifts from my japanese friends, the vintage one is from Aisu and the new version from Gunts.
Thanks my friends for these wonderful pieces !
Official Kerberos Saga.jp T-shirt
The same model of calculator used in Akai Megane.
The calculator is in great condition, functional, and with the original leather holster
The back, with the Casio copyright